BAMFORD
Carole Bamford is an influential champion of natural living and her company Bamford is a longstanding partner of Lime Wood and Herb House. Herb House was the first spa to offer Bamford body and skincare treatments outside of the original Daylesford Bamford Wellness Spa in Gloucestershire. Bamford works in harmony with its environment, sourcing the finest natural ingredients and fibres to nourish the body and mind. Everything Bamford does is born out of Carole's belief that we need to live more consciously: to slow our pace, be mindful of our footprint and take care of the earth that provides for us. In doing so we nourish and nurture our own well-being too.
Bamford at Lime Wood
Experience Bamford throughout Lime Wood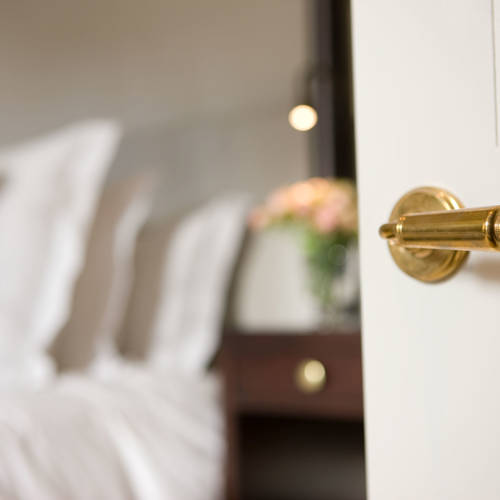 SLEEP
Sleep is so important for your mind and Bamford's pillow mist will be waiting for you when your head hits the pillow at Lime Wood to ensure a deeper, more peaceful and restorative night's sleep. The mist contains a blend of spiritual frankincense with calming lavender and marjoram to soothe and relax the body. Lavender flower oil has a long history of medicinal use, known to possess anti-depressive, anxiolytic, sedative and calming properties. It soothes the nervous system for better quality sleep.
BOOK A STAY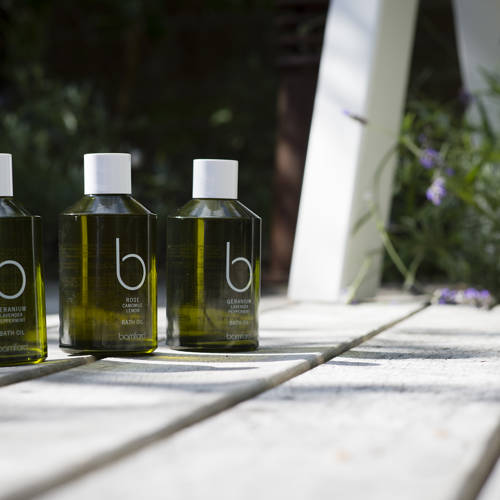 SHOP
Shop the Bamford range in Curated by Lime Wood, located in Herb House! Bamford's luxurious products combine modern cosmetic science with natural essential oil blends and perform beautifully, while balancing both mind and body. You can find a selection of Bamford products in our spa shop, from the B-Silent range, developed to naturally rejuvenate rest; to Bamford Grooming Department, a premium essential kit for the modern man. Visit Curated on your next Herb House visit to explore the Bamford range.
EXPLORE CURATED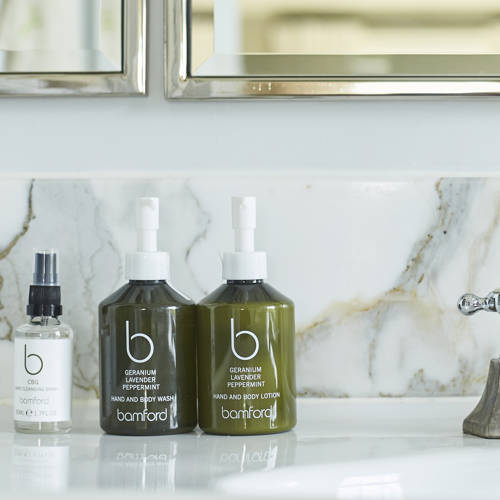 BATHROOM
Every room at Lime Wood contains a range of Bamford products for our guests. Bamford has created one of the very few organic amenity collections with earth conscious packaging and sourcing. Bamford want to be able to account for the journey their products take to come into your hands. The products feature Bamford's unisex blend of geranium, lavender and peppermint organic essential oils. Every room contains Shampoo, Conditioner, Geranium Hand and Body Wash and Geranium Hand and Body Lotion.
BOOK A STAY
TREATMENTS AT LIME WOOD
Bamford's botanical body collection is designed to cleanse, protect and revitalise. A fragrant, sensual experience with the nurturing, healing and rejuvenating properties of nature.
Bamford skincare is made using the finest natural and organic ingredients for beautiful skin. Bamford has searched through nature's larder, selecting powerful natural active ingredients that will achieve visible results. The products have been formulated with no harsh chemicals and will care for even the most delicate skin.
Many of the treatments on offer in Herb House use Bamford's products. Bamford body oils are used in many of our treatments and each one offers a unique experience:
Geranium – refreshes and uplifts
Rose – nourishes and soothes
Rosemary – invigorates and tones
Camomile – calms and purifies
Bamford Grooming Department is a collaboration between Bamford founder Carole and her son, George Bamford. This is the essential kit for daily life, a male-only premium skin and haircare line and treatment range for the modern man, containing ingredients that help simplify men's grooming. There is a hand and body wash, exfoliating face wash, moisturiser, shampoo, shave oil and home fragrance.
Meet Carole Bamford
Carole Bamford has been a champion of sustainable, mindful living for over 40 years, driven by her profound belief that we need to work in harmony with nature, to nurture and protect it and treat it with respect. As the founder of Daylesford Organic, she is recognised as a visionary in organic farming and food retail. Her passion for natural, sustainable products led her to found Bamford in 2006 and it now partners with the best artisans and wellness experts from around the world.
Carole believes that what we put on our body is as important as what we put into it through our food, a philosophy that drives the ethos and quality of the Bamford ranges. She successfully balances a luxury sensibility with sustainability, creating natural conscious products we are proud to include across many touchpoints across Lime Wood.